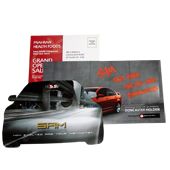 Direct mail is an incredibly powerful marketing tool that has the advantage of a simple and immediate measure of success – the response rate.
For small businesses in particular, direct mail is often the best option for sending messages to tightly targeted groups or customers or prospects. It has very high open rates – at the very least your recipient is likely to glance at it. Your audience can see and touch it, and digest your message at the time of their choosing.
Remember – if you don't keep regular contact with your customers, someone else will. Don't lose business by apathy.
Minuteman prints a variety of products used for direct mail, including postcards, flyers, letters, self-mailers, business reply cards, or anything else you need to put into the mail.
You can arrange your own mail distribution, or we complete the entire project by either using your mailing list or procuring a mailing list using your specifications. We then arrange packing, addresssing and delivery which ensures maximum postal discounts.
What's important when you use direct mail?
• Define your target market as precisely as you possibly can. The more precisely you target, the better your response rates will be.
• Mailing to existing customers and including information relevant to their interests will invariably generate the highest response rates.
• Series of mailings versus a single mailing is almost always more effective – sending to the same person 3 times is much better than sending one piece to 3 people.
• Postcards have a lot going for them as direct mail. When a postcard arrives, there is a 100% open rate. The message is read, even if only briefly. They are cheap to produce and mail, quick and easy to manage. Great for special offers, invitations, new product announcements and discount coupons.
• Integrating your mailings with email and telephone followup will increase your response rate.
• Getting the mailing list right is vital. If you're using your house list, make sure the information is kept up to date. Keep refining your lists and checking them for accuracy, to improve response and reduce waste.
If you decide to use a list from a list broker, be very specific about the customer profile you request.